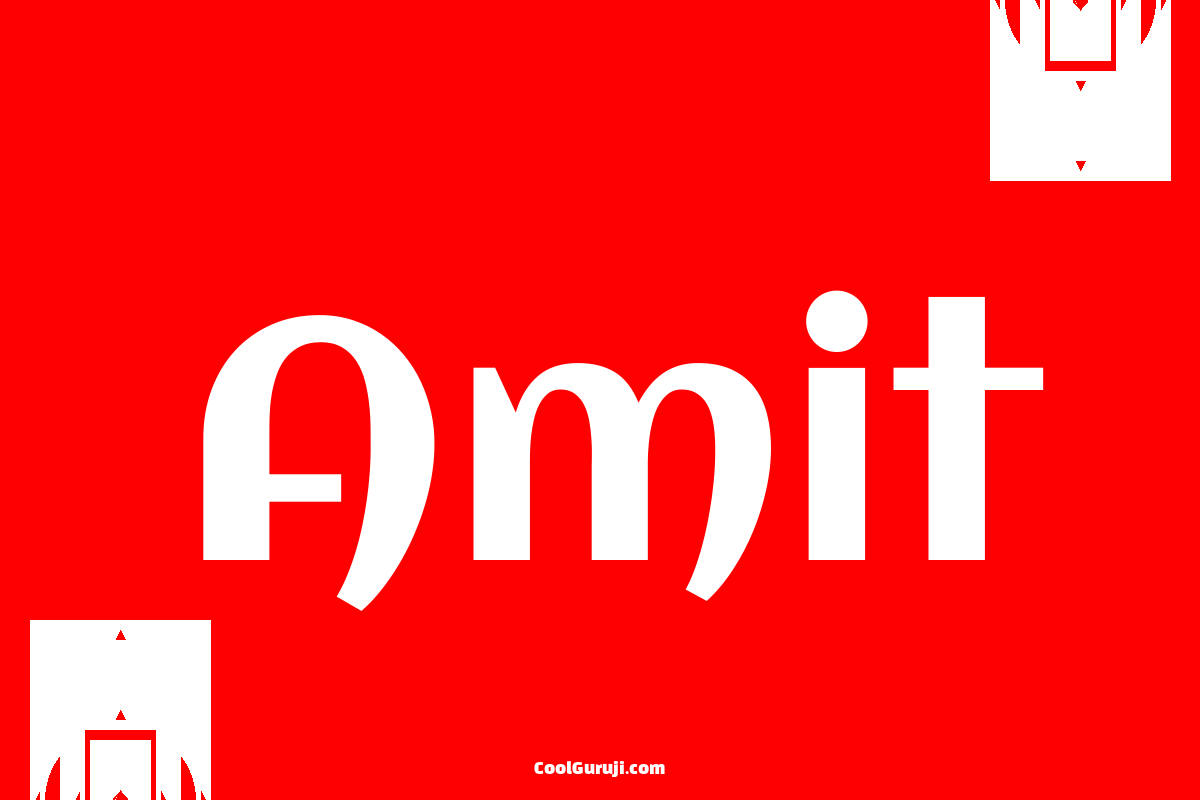 Discover the origin, meaning, variations, and numerological details of the name Amit. Learn how to write Amit in popular Indian languages and explore its influence on personality. Explore famous individuals with the name Amit and delve into interesting facts about this captivating name.
Amit – Origin and Meaning
Amit is a popular and meaningful name of Indian origin. Let's explore the origin and profound meaning behind the name Amit.
Origin of the Name Amit
The name Amit finds its roots in Sanskrit, an ancient language of India. In Sanskrit, "Amit" (अमित) is derived from the word "amita," which means "limitless" or "infinite." It signifies boundless potential, unlimited possibilities, and the expansiveness of the soul.
Meaning of the Name Amit
Amit is often interpreted as "infinite," "eternal," or "unbounded." The name reflects the essence of endlessness, strength, and the ability to overcome obstacles. It represents an individual with immense potential and a spirit that knows no limits.
Writing Amit in Indian Languages
Amit can be written in various Indian languages while preserving its essence and significance. Here's how Amit is written in different Indian scripts:
Amit in Devanagari (Hindi)
अमित
Amit in Tamil
அமித்
Amit in Bengali
অমিত
Amit in Telugu
అమిత్
Amit in Kannada
ಅಮಿತ್
Characteristics and Personality Traits
Individuals named Amit are often described as ambitious, charismatic, and resilient. They possess a drive to achieve greatness and overcome challenges. Here are some notable characteristics and personality traits associated with Amit:
Ambitious: Amit individuals have a strong desire to excel and achieve greatness in their chosen endeavors.
Charismatic: They possess a magnetic charm and charisma that attracts others to them.
Resilient: Amit individuals have the ability to bounce back from setbacks and display inner strength in difficult times.
Adventurous: They have a thirst for new experiences and are often drawn to exploring different paths and taking risks.
Leadership Qualities: Amit individuals often showcase leadership qualities and have the ability to inspire and influence others.
Career and Life Path
Amit individuals excel in professions that allow them to showcase their leadership skills, creativity, and ambition. They are drawn to careers that involve innovation, challenge, and personal growth. Suitable career paths for Amit include:
Business and Entrepreneurship: Amit's ambitious nature and leadership qualities make them well-suited for starting and managing their own businesses.
Media and Entertainment: They thrive in creative fields such as acting, music, writing, or filmmaking, where they can express their charisma and captivate audiences.
Technology and Innovation: Amit individuals are often drawn to careers that involve cutting-edge technology, research, or invention.
Marketing and Sales: Their charisma and persuasive skills make them adept at marketing, sales, and building strong connections with clients.
Leadership Roles: Amit individuals may excel in managerial positions or in fields that require strategic thinking and decision-making.
Numerology Details and Variations
Amit possesses a significant numerical value that adds depth to its meaning. According to numerology, the name Amit corresponds to the number 1. Individuals with the number 1 as their destiny number are often ambitious, independent, and have a pioneering spirit.
Variations and Nicknames
Amit has variations and endearing nicknames that further enhance its appeal. Some popular variations and nicknames of Amit include:
Amith
Amitabh
Amitava
Amitesh
Name Influence on Personality
A person's name can subtly influence their personality and life choices. While the impact varies for each individual, the name Amit is associated with ambition, resilience, and limitless potential. It may inspire individuals to pursue careers or engage in activities that foster personal growth, leadership, and the exploration of new possibilities.
Famous Individuals with the Name Amit
Several notable individuals have carried the name Amit and made their mark in various fields. Here are a few famous individuals with the name Amit:
Amitabh Bachchan: An iconic Indian actor and film producer, widely regarded as one of the greatest actors in the history of Indian cinema.
Amit Trivedi: A renowned Indian film composer, musician, and singer known for his innovative and soul-stirring music compositions.
Amit Shah: A prominent Indian politician and the former President of the Bharatiya Janata Party (BJP), known for his influential role in Indian politics.
Conclusion
Amit is a name that signifies limitless potential, strength, and ambition. With its origin in Sanskrit and its profound meaning of "infinite" or "unbounded," Amit carries a sense of resilience and the courage to overcome challenges. Individuals named Amit possess charisma, ambition, and a pioneering spirit that empowers them to excel in various professions. From its variations and numerological details to the influence it has on personality, Amit remains a captivating name with a rich heritage.