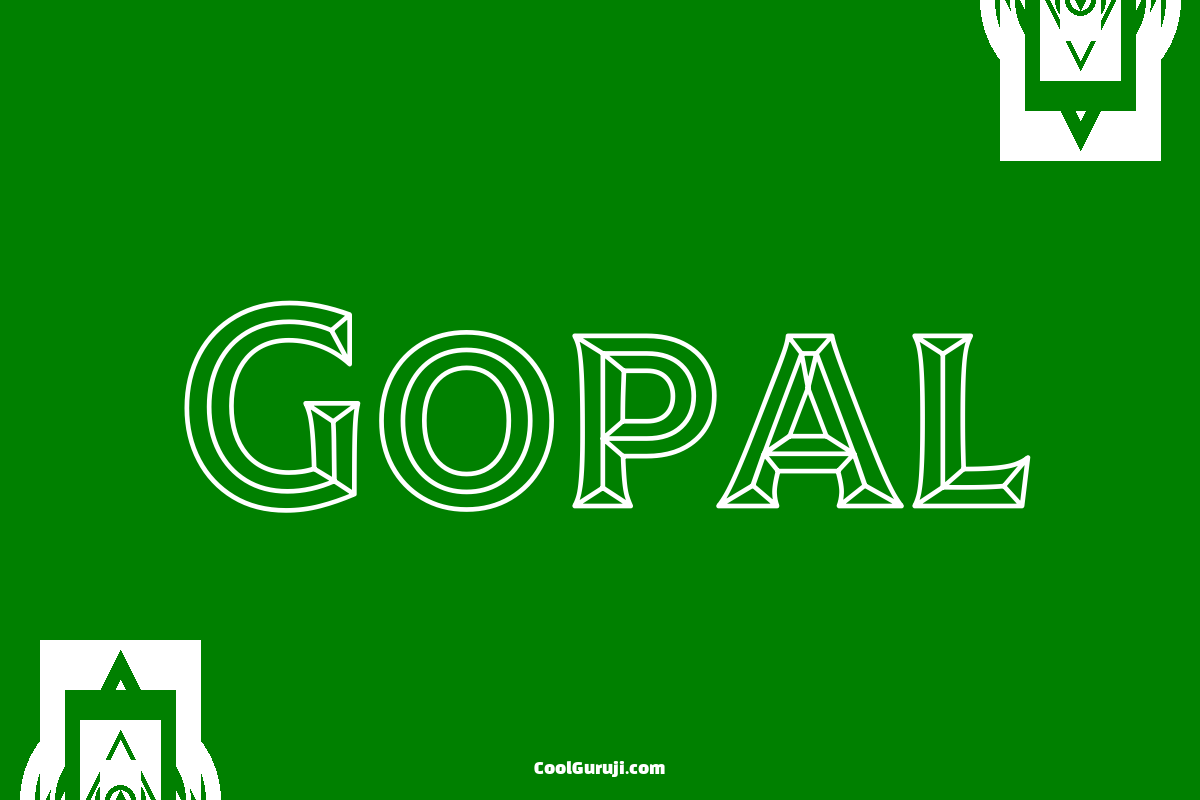 Discover the origin and meaning of the name Gopal, its variations in popular Indian languages, numerology details, personality traits, and career prospects. Explore the influence of the name Gopal on one's personality and learn about famous individuals who bear this name.
Gopal – Name Origin and Meaning
Gopal is a significant Indian name with deep cultural roots. Its origin can be traced back to Sanskrit, where "Go" means "cow" and "Pal" means "protector." Gopal signifies the divine role of Lord Krishna as the protector of cows. The name carries the essence of devotion, love, and compassion.
Writing Gopal in Popular Indian Languages
Hindi: गोपाल
Bengali: গোপাল
Tamil: கோபால்
Telugu: గోపాల్
Kannada: ಗೋಪಾಲ್
Malayalam: ഗോപാല്‍
Gujarati: ગોપાલ
Marathi: गोपाळ
Punjabi: ਗੋਪਾਲ
Urdu: گوپال
Gopal's Characteristics and Personality Traits
Individuals named Gopal possess unique characteristics that shape their personalities. They are often known for:
Nurturing Nature: Gopal individuals have a nurturing and protective nature, caring for their loved ones and those around them.
Devotion: They exhibit strong devotion and loyalty, whether in relationships or their pursuits.
Calmness: Gopal individuals maintain a calm and composed demeanor, even in challenging situations.
Compassion: They demonstrate a compassionate nature, showing empathy and understanding towards others.
Creativity: Gopal individuals often have a creative flair, expressing themselves through various artistic outlets.
Spirituality: They have a deep spiritual inclination, seeking meaning and connection in life.
Career and Life Path for Gopal
Gopal individuals excel in careers that align with their nurturing and creative nature. Suitable career paths for Gopal individuals include:
Teaching or mentoring
Counseling or therapy
Social work or community service
Art or music
Writing or Literature
Religious or spiritual leadership
Animal welfare or veterinary services
Gopal individuals find fulfillment in professions that allow them to make a positive impact on others' lives.
Numerology Details
According to numerology, the name Gopal corresponds to the number 6. Individuals associated with this number are known for their nurturing and caring nature. They are responsible, and dependable, and strive to create harmony in their surroundings.
Variations and Nicknames
Variations and nicknames for the name Gopal include:
Gopala
Gopu
Gopi
Gopinath
Gopichand
Name Influence on Personality
The name Gopal holds a significant influence on an individual's personality. It reflects their inherent qualities of protection, devotion, and compassion. People with this name are often seen as caring and nurturing individuals who prioritize the well-being of others. The name Gopal inspires a sense of responsibility and fosters a deep connection with the divine.
Famous Individuals with the Name Gopal
The name Gopal has been carried by several notable individuals, leaving their mark in various fields. Some famous Gopal individuals include:
Gopal Krishna Gokhale: A prominent social and political leader during India's independence movement.
Gopal Sweets: A renowned chain of sweet shops in Punjab, India, known for their delectable sweets and snacks.
These individuals have contributed significantly to society, embodying the qualities associated with the name Gopal.
In addition to the mentioned details, it's interesting to note that Lord Krishna, one of the most revered deities in Hindu mythology, is often referred to as Gopal due to his role as the cowherd boy who protects the cows.
By exploring the name's origin, meaning, personality traits, career prospects, numerology details, variations, and famous individuals, we uncover the significance and depth of the name Gopal in Indian culture and beyond.