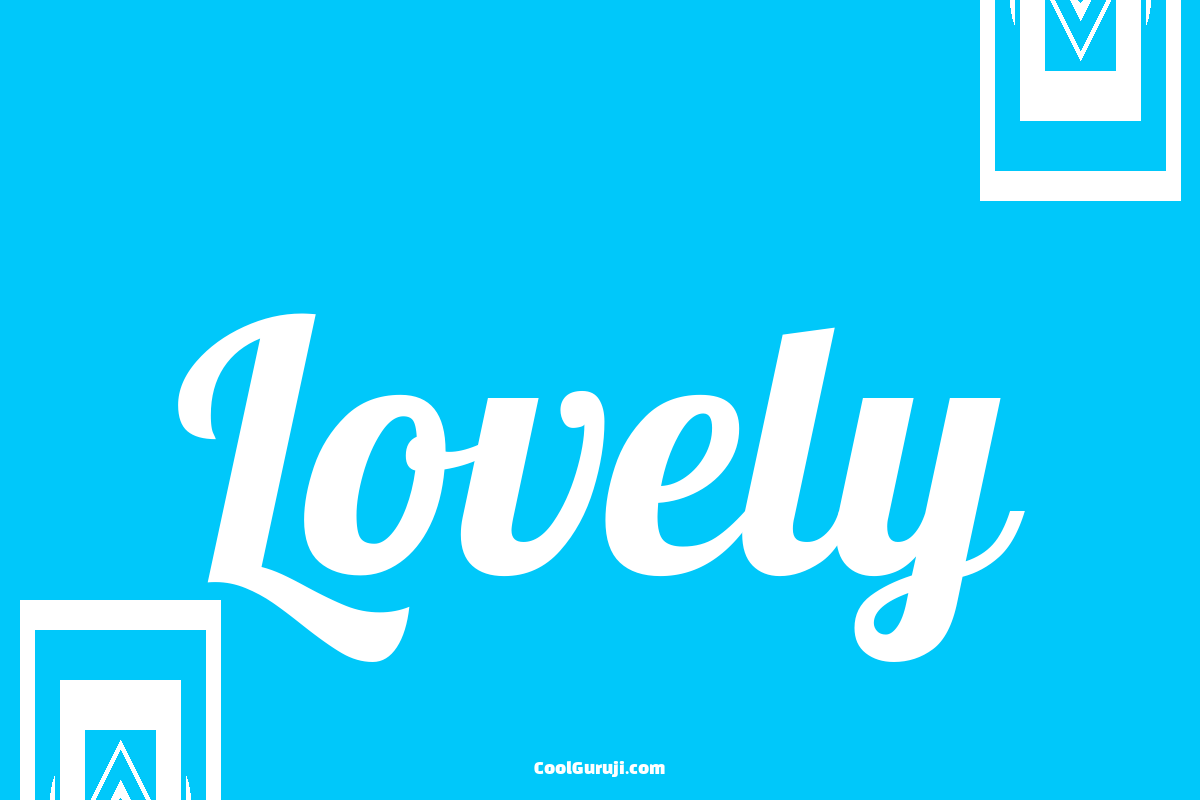 Discover the origin and meaning of the name Lovely, its influence on personality traits, career paths, and numerology details. Learn how to write Lovely in popular Indian languages and explore famous individuals who bear this name.
Name Origin and Meaning of Lovely
The name Lovely is a delightful and endearing name that carries positive connotations. Its origin can be traced back to the English language, where it derived from the word "love," symbolizing affection, warmth, and tenderness. As a name, Lovely embodies the essence of love and is often associated with qualities of kindness, compassion, and a loving nature.
Writing Lovely in Popular Indian Languages
If you wish to write Lovely in multiple popular Indian languages, here are the variations:
Hindi: लवली
Bengali: লাভলি
Tamil: லவ்லி
Telugu: లవ్లీ
Kannada: ಲವ್ಲೀ
Malayalam: ലോവ്ലി
Punjabi: ਲਵਲੀ
Gujarati: લોવ્લી
Marathi: लव्हली
Odia: ଲଭଲୀ
Characteristics and Personality Traits of Lovely
Individuals named Lovely possess unique characteristics and exhibit a distinct personality. Here are some common traits associated with individuals named Lovely:
Loving and Affectionate: Lovely individuals have a natural inclination towards love, and they radiate warmth and affection towards others.
Compassionate: They display a deep sense of empathy and compassion, often going out of their way to help others in need.
Kind-hearted: Lovely individuals have a gentle and generous nature, always looking for opportunities to spread love and kindness.
Optimistic: They have a positive outlook on life, finding joy in even the simplest of things and uplifting those around them.
Creative: Lovely individuals often possess artistic talents and a vivid imagination, expressing themselves through various creative endeavors.
Charismatic: They have a magnetic personality that draws people towards them. Their ability to connect and empathize with others makes them excellent communicators.
Peaceful: Lovely individuals strive for harmony and avoid conflict whenever possible. They seek to create a peaceful environment in their personal and professional relationships.
Career and Life Path for Lovely
The career path of individuals named Lovely can be diverse, influenced by their loving nature and creative abilities. Some professions that align well with Lovely's skills and aspirations include:
Counseling and Therapy: Lovely individuals excel in fields that involve providing emotional support and guidance, such as counseling, social work, or psychology.
Art and Design: Many Lovely individuals find fulfillment in creative professions like painting, writing, fashion designing, or interior decorating.
Hospitality and Tourism: Their warm and welcoming nature makes them ideal candidates for careers in hospitality, tourism, or customer service.
Teaching and Education: Lovely individuals have a natural ability to connect with others and make learning enjoyable. They thrive in roles as teachers, mentors, or educators.
Social Services: Given their compassionate nature, Lovely individuals often choose careers in nonprofit organizations, community development, or advocacy work.
Numerology Details for Lovely
In numerology, the name Lovely corresponds to the number 6. Individuals with this number possess qualities of nurturing, harmony, and responsibility. The number 6 signifies a strong sense of family, home, and community. Lovely individuals are often caring and loving individuals who prioritize the well-being of others.
Variations and Nicknames for Lovely
Lovely allows for variations and nicknames that add a personal touch. Some common variations and nicknames for Lovely include:
Lovelle
Love
Lovie
Lovina
Lovisa
Name Influence on Personality
The name Lovely has a significant influence on the personality of those who bear it. It reflects their loving nature, compassion, and ability to spread warmth and kindness. Individuals named Lovely are often seen as beacons of love and have a positive impact on the people they encounter. Their presence and caring nature create a nurturing environment that fosters love and understanding.
Famous Individuals Bearing the Name Lovely
While Lovely is a name with a more uncommon presence in the public eye, it is cherished by individuals worldwide. Though there might not be many famous individuals specifically named Lovely, many people carry this name with grace and make meaningful contributions in various fields, embodying its positive essence.
Conclusion:
The name Lovely originated from the English language, symbolizing affection and tenderness. Individuals named Lovely exhibit loving and compassionate traits, spreading warmth and kindness to those around them. They possess characteristics such as being kind-hearted, creative, and optimistic, making them ideal candidates for careers in counseling, art and design, hospitality, teaching, and social services. The name Lovely corresponds to the numerological number 6, representing nurturing and responsibility. While there might not be many widely known famous individuals specifically named Lovely, countless individuals carry this name with grace and make a positive impact in their communities.